Done the 92 questionnaire – MARK JENKS (TRANMEREMADMARK)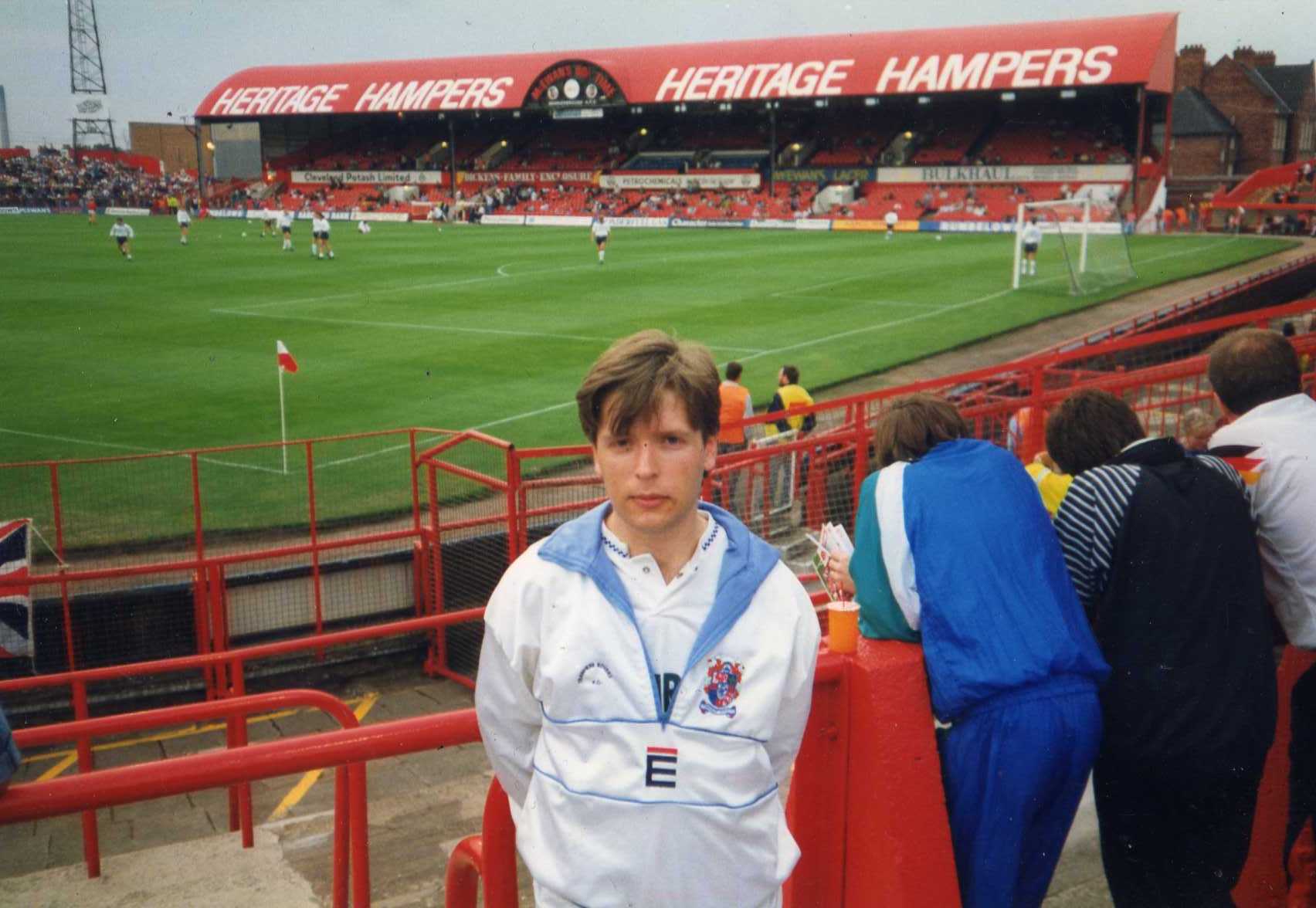 Mark at Ayresome Park circa 1991

How many grounds had you visited before you realised you wanted to do the lot?

I was hooked from my first league game in 1984 but it was the 1988/89 season that took off with ten away grounds with Tranmere that season and a few more with Liverpool. Tranmere's promotion saw me ever present the following season and it grew from there.

Did you choose the last ground you were going to visit or did it just pan out that way?

The first time I complete the 92, my last ground was Old Trafford - I'd like to say it was because of my dislike for most things Man Utd but in all probability it would have been the difficulty in getting a ticket (the Emirates was even worse), and it appears this will be the same for West Ham going forward. This technically didn't count for the 92 Club as Brighton were now groundsharing with Gillingham and their rules stated I would have to see them again there.

Did you have company for some or all of it – were you in competition with anyone else and what happened to them?

Most have been on my own or on the Tranmere supporters coach but I have taken some friends to games along the way. One of which (Tony) is probably there or there abouts, however he is way ahead on lower pyramid grounds.

How many had you done when you thought 'Right, I'm going to finish this now'?

I suppose when you're in your high seventies or low eighties it's on your radar more but sometime life and work dictates you have to wait a season or two to take your opportunities. With Tranmere having never played at a number of grounds, or not in my time following them, (Man Utd 1976 and Arsenal 1973) I had to do them as a neutral, however i'm still yearning for the day when i've seen my team on every ground.

Obvious question but, best day out?

Not so easy to answer as I have been truly blessed. Seeing Tranmere play teams for the first time ever (Ipswich/Birmingham etc) or against other large city teams. Newcastle 2 Tranmere 3, Tranmere 5 West Ham 2, Tranmere 3 Aston Villa 1, Tranmere 4 Southampton 3 beating Bristol Rovers at Wembley in the LDAF cup 2-1 (missed the Bolton play off final due to work) the list goes on, however Everton 0 Tranmere 3 in the FA cup was special, especially getting grief off some young sprogs at the station on route taking great pleasure in telling me how we were rubbish (to be polite) and were going to get stuffed. But the winner for me is home to Crewe last game of 88/89 season in glorious sunshine; the terraces where rammed and dozens climbed the floodlight pylons, 15,286 crammed the ground, a win would see us champions but defeat could see us miss out. In the end it finished in a 1-1 draw which saw us finish runners up with Crewe also promoted in 3rd place.

Did you manage to do more than one ground in a day at any point?

Certainly did it in Scotland; Rangers v Livingston followed by Dumbarton v Falkirk and also done it pre season a few times like this year Heswall v Tranmere 12:00 followed by Vauxhall Motors v Tranmere 16:00. Had planned to do Tranmere v Bolton followed by an Everton game in the 90's however Tranmere called their game off in protest at the policing costs (add that one to question 8) and were subsequently docked 3pts. Apparently Spurs did the same and both appealed, but only Spurs got the reprieve. I'm sure it's quite common to do several grounds on consecutive days but last month was a new one for me with four games in four countries in four days. Tranmere/Bolton friendly (England Tues); Edinburgh City v Livingston cup (Scotland Weds); Connahs Quay v Vodjvodina Europa League (Wales Thurs) and Bohemians v Derry (Ireland Fri) and then Northwich vics v Tranmere on the Saturday.

Apart from non-League football at the moment, what does Plainmoor have that the Emirates never will?

Definatley Soul, I've loved everything football over the years, the grounds; the programmes; the kits and the history but have come to loath the greed, the unsporting mentality and endless needless interfering rule changes that are often a detriment to the game and normally geared at keeping well supported city teams in the higher echelons at all costs. Don't get me wrong I still love the game, but it's a lot closer to its proper roots at Torquay than any Premier League ground. The last time we played Wolves they still had £20 million in parachute payments - over £19.5 million more than lots in the division. Needless to say they won the title. Why bother kicking a ball - just give them the title and let the rest play on a more even keel. Rant over lol.

Did you ever turn up to find the game wasn't on, or that you'd gone to the wrong ground?

Shedloads! Aquaplaned all the way down the M1 to the City Ground, Nottingham in 1994 for the League Cup Quarter Final, really shouldn't have been surprised about the waterlogged pitch! Arrived on the supporters coach at Braintree for an FA Cup game (also waterlogged) and Colchester for a league game (frozen pitch) in recent years and been on the outskirts of Peterbourgh a few years prior to those (frozen pitch). Well past the halfway mark on route to Brentford and Cheltenham for a couple more off the top of my head with games at Tranmere called off due to high winds blowing roof panals off (safety) and club offices being flooded. I was fortunate on another occasion though - after a 25 hour coach trip to Pisa for an Anglo-Italian Cup game only went ahead after a late pitch inspection!

Also had plenty of abandoments; Wycombe 0 v 2 Peterbourgh 60mins+ fog; Swindon 1 v 2 Tranmere floodlight failure 50mins; Motherwell v Hearts waterlogged pitch Ht; Alloa 1 v 0 Greenock Morton snow 60 mins+; Tranmere v Mansfield crowd trouble Ht( man climbed up floodlight pylon and jumped on stand roof and wouldn't come down) sure there's more, but think thats plenty to go on with....!

Best/worst food on your travels?

Three stand out; firstly Elgin in Scotland had a van outside selling bright orange curry or chilli with carrots and peas.

Unfortunatly my own team Tranmere historically are very poor. One year in the best pie survey we were the only team in the league at the time that didn't sell them, and on the same lines back in the days when Lorraine Rogers was the chairman I had to bring up the fact that they weren't selling Coca Cola! Sitting in the paddock in the days before they stopped you crossing over from one side to the other you would find you could only get a pie on the town side (they do them now) and only get burgers/chips and hotdogs on the family side, never managed to finish the chips as they always tasted like the cooking oil had never been changed.

My winner however was the cafe outside Millwall's New Den, one year I ordered sausage, chips and beans but was given peas instead, when I politely pointed this out, the man serving behind the counter scooped the peas out of the tray with his hands put a dollop of beans on top and handed back the tray!

The best include anywhere selling Balti pies like Walsall and Bradford, Kidderminster both as a league and non league club (cottage pies and carvery baps amongst others) and also this year, Bromley's improvements in the away end include an impressive array including pizza and breakfast baps so well worth a mention.

Do you still call 'League One' 'Division Three'?

Yes, often depending on who you're talking too but they make it complicated don't they? If you're talking to someone with a passing interest or an armchair Premier League fan lots are clueless and if you talk about historic games covering all the changes then God help you.

Most and least welcoming hosts?

Second time I completed the 92, MK Don s(playing at the National Hockey Stadium) put an article in their programme to mark the occasion. Most Scottish grounds go above and beyond once you start talking to the staff (Hearts did a particularly good job in the early 90's as did a chap at Shelbourne in Dublin on my recent visit to the city).

Least, I'd say most Yorkshire clubs, whilst Halifax was fine last season, back in 1991 when my car broke down and I only had my away shirt on I was chased by a gang of teenagers and I've been 'offered' out at Sheff Weds whilst minding my own business by the away coaches. Also a mention for Lille in France; after I explained where I was from and my hobby I asked if it would be possible to see inside the ground or take a picture. I was met with a single and definate NON. Oh those happy chappies.

Any bizarre incidents along the way. Any brushes with anyone famous/infamous?

One winter the weather took a huge toll on the fixtures, but Coventry v Barnsley was one of very few that survived. I'd been to the Ricoh before but three of my fellow Tranmere fans hadn't and I was pursuaded to drive them down in the search of our footy fix. Once there the media got wind of it and we where featured in the next home programme and the local paper however they slightly embelished the article in stating that we had helped clear the car park of snow to help the game go ahead and whilst I'm sure we would gladly have.. it didn't happen. We were never asked and I think it had been done long before we arrived!

After a game at Q.P.R i saw Gabriel Clark (the presenter of the Football League Show at the time) outside the ground and asked if it were possible in the nostalgia section if they could show past highlights from the lower leagues, he immediatley got his cameraman to start filming and asked me about some football task force which I think was fronted by David Mellor but I hadn't heard of it then, so filming was swiftly stopped.

On a similar note the season Aldershot went bust I saw them play Northampton. 90 minutes the footy magazine were posing questions outside to passers by whilst inside I spotted a familiar scarf of a Tranmere fan being interveiwed for local television doing a comparison with our struggles in the early Eighties. I think I bombed the shoot as I opened my jacket to show my Rovers shirt. The interviewee was sufficiently distracted to ruin the take!

Finally, I've had quite a few mishaps over the years but during my teenage years two midweek games involving Liverpool stand out. Firstly, after returning from a match in Leicester I had to hitch hike to relatives and was picked up by a man in drag, and after a game against Ipswich missed the last train back to Wales, getting in at 4am with the aid over the last few miles via a police car as my folks had informed them that I was missing!

Now you've joined the small band of 92ers do you plan to keep visiting new grounds as they are introduced to the League, or do you consider it to be a one-off, job-done deal?

Worked it out the other day that since first completing the 92 way back in 1997 I've had to do another 34 grounds either with teams that relocate to new stadiums or have been promoted from non-League, so would like to carry on the process, but must admit to being worried about availability of getting tickets for grounds like West Ham's Olympic stadium or finding a date around my other footballing commitments to do it.

What was your memento/proof of each visit – programme, photo, ticket stub, badge?

Think I've a programme for all games where they've printed one, with the exception of Phil Neal's testimonial (Liverpool v Everton). Wales v Canada sold out on the day but picked up a copy on Ebay about a year later. Early days lots of games where pay on the turnstiles but in recent years I make more of an effort to get a ticket when I can (scrounged one at Torquay last season because if you paid to sit on the day they gave you a tramp stamp on your hand instead). Have taken quite a few photos over the years but plenty where I didn't. Only have half a dozen 'game' badges.