Done the 92 questionnaire – JOHN LEEKEY (covskybluejohn)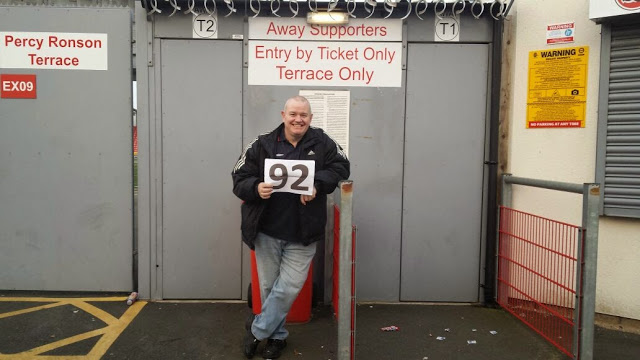 John outside Fleetwood's ground
How many grounds had you visited before you realised you wanted to do the lot?
84 grounds of the current 92 watching my team Coventry City - 108 if you count old and new grounds.
Did you choose the last ground you were going to visit or did it just pan out that way?
I had 8 grounds to go so when Coventry moved to Sixfields. I picked the grounds and went but when I tried to enter the 92 club Mike told me friendlies don't count, so I made the decision to do the 5 grounds again where I had seen friendlies. I went to 3 grounds at the start of this season watching other teams and the last 2 were in March 2015 - Chesterfield and Fleetwood v Coventry, where I completed the 92.
Did you have company for some or all of it – were you in competition with anyone else and what happened to them?
Over the years I went with 3 work-mates - 2 have since passed away. Then there where 3 other mates who when we got relegated from the Premier League went to all the grounds in the Championship we had not been to. The grounds they missed I went to with my wife and made weekend away trips . When we got relegated to League One I went to all the grounds I had not been to either with my wife or with 3 mates who call ourselves the pie eaters outing on tour.
How many had you done when you thought 'Right, I'm going to finish this now'?
I decided to do all the grounds when I had done 84 and Coventry moved to Sixfields.
Obvious question but, best day out?
Best day was the Cup Final when we beat Spurs, but that does not count so Fleetwood when I completed the 92 AND Fleetwood presented me with a club tie. I had my photo taken on the pitch with thier mascot - everything about Fleetwood Town was first class.
Did you manage to do more than one ground in a day at any point?
No but went to 3 in 4 days - Coventry on Good Friday, Accrington Stanley on Saturday and Hartlepool on Easter Monday to tick of the grounds I also did 4 in 5 days last season - all friendlies
Apart from non-League football at the moment, what does Plainmoor have that the Emirates never will?
I have not been to Plainmoor for a while but know what you mean - old grounds v new grounds... Old grounds have character and tradition and are proper football grounds - new grounds are mostly concrete jungles. The Emirates is one of the better new grounds; most of the others are much the same - no character and soulless
Did you ever turn up to find the game wasn't on, or that you'd gone to the wrong ground?
I went to Newcastle to watch Coventry and it was the only game in the country called off because of snow! Spent the day in a pub in Whitley Bay - superb. Also Stoke City at the Victoria Ground - snow again. And Sheffield Wednesday game was abandoned due to rain when where winning 1-0
Best/worst food on your travels?
In the 70s you used to get mobile hot dogs and burger vans up north, most grounds had them. Liverpool and Man Utd were bad but for me Arsenal at Highbury were the worst when McDonalds starting to appear and burger vans just put relish and mixture of salads on your burger without asking you. I can't eat the stuff they put on and after losing 6-1, I came out of the ground, bit into one and it made me ill (the beer down south didn't help either!)
Do you still call 'League One' 'Division Three'?
Yes - never thought my team would be in it though.
Most and least welcoming hosts?
Best hosts are Fleetwood Town. When I did the 92 they put it in the programme and presented me a club tie on the pitch. From that the national papers picked the story up The Daily Mirror/ The Sun and local paper Coventry evening telegraph also Central news website. Also Crawley town were very good. When we first played them in League One we were the big club and they had just come up. When we arrived at the ground they took us in the changing rooms, on the pitch, showed us round the ground - and then they beat us! The least welcoming are Aston Villa who threw bricks at me, and in a pub a bottle was thrown. Also Leicester City/Millwall/Leeds utd/West Ham - when we play these clubs there is always a bad vibe around the place and bad atmosphere.
Any bizarre incidents along the way. Any brushes with anyone famous/infamous?
Jimmy Tarbuck stepped on my wife's foot by accident coming out of Anfield. I saw Arthur Askey (a comedian) in the 70s at Chelsea, David Essex at Cov v West Ham, Nigel Kennedy (violinist) at Villa and Pete Waterman at Walsall in the players lounge after the game where he was presenting the man of the match after we had just won 6-1. He was on the panel of Pop Idol at the time and Michelle McManus had won it the week before. He was not happy when my friends told him I was a good singer and he asked me to sing a few notes. I started singing the Sky Blue song and he told me in words I can't include here to go away...
Now you've joined the small band of 92ers do you plan to keep visiting new grounds as they are introduced to the League, or do you consider it to be a one-off, job-done deal?
I will go all new grounds and promoted teams - I have already pencilled in Barnet for August 2015
What was your memento/proof of each visit – programme, photo, ticket stub, badge?
I have programmes from every game I have been to - 1,253 to date. I have also got pin badges from every ground I have been to and England match day badges and match day badges from league and cup games - 450 in total which I keep in a Coventry City membrolia room at home. I have also kept every ticket stub although older games you paid on the gate so not a lot of them.