Done the 92 questionnaire – Paul Hunt (paulhunt999)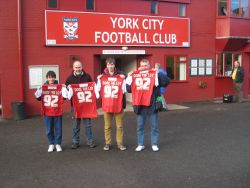 Paul and his sons with their Done The Lot shirts at York

How many grounds had you visited before you realised you wanted to do the lot?

We really decided after seeing Norwich at most of the away grounds in the Premiership in 2004/5 as my youngest boy could not get a home ticket so we decided to go to away matches. So probably about 12.

Did you choose the last ground you were going to visit or did it just pan out that way?

We just had a few ground to visit this season after making a big effort last season. We did Fleetwood who came up and Rotherham who moved to a new stadium early this season which left York. York was absolutely fantastic as we are real ale fans and their social club has 4 real ales on so we made it an overnighter on New Years's Day!

Did you have company for some or all of it – were you in competition with anyone else and what happened to them?

I went with my two sons now aged 12 and 16 but who were 4 and 8 when we started. We went with my best friend Chris who is also a season ticket holder at Norwich.

How many had you done when you thought 'Right, I'm going to finish this now'?

We had got to about 80 last year and made a determined effort. It is a long way from Norwich to most places and especially the likes of Morecombe and Fleetwood.

Obvious question but, best day out?

Seeing Norwich get promotion back to the Premiership as Charlton was a great one and also our last at York as it was an accumulation of effort (and finance) with a perfect day out.

Did you manage to do more than one ground in a day at any point?

We did Preston and Wigan in one day and did some weekends including Torquay with Cardiff and Tranmere with Bristol City.

What does Plainmoor have that the Emirates never will?

Well for a start the price I think the 4 of us got in for about £40. It was a capacity game on Good Friday against Wycombe. Also we sat in the social club for a bit of the second half overlooking the pitch as it was freezing drinking beer in view of the pitch. Never would have got away with that at the Emirates. It felt like a local club for local people. Also Torquay will never have Premiership football but will probably be better for it.

Did you ever turn up to find the game wasn't on, or that you'd gone to the wrong ground?

Only once did we travel to a match that was cancelled and luckily it was Colchester just 40 miles and we found out halfway.

Best/worst food on your travels?

We tend to eat at transport cafes and have an established knowledge of where to find them – particular good one being the Stubbington Diner on the A1 near Peterborough. Had a particularly bad carton of cold chips at one ground which I think was Oxford but don't quote me!

Do you still call 'League One' 'Division Three'?

No otherwise my boys would not know what we are talking about.

Most and least welcoming hosts?

A fantastic welcome at most grounds especially when people find out we are doing the 92. It is always interesting to see a match from a neutral point of view and then hear home and away fans talk about a different game. Special mention to the Kemble Brewery Inn Cheltenham who give away free sandwiches to fans before the match and serve fabulous real ales. Shame we had to go to the match as it was 0-0. Crewe was also excellent. We travelled by train. The pub with real ale and Skysports was 100 metres away with the ground another 100 metres.

Least welcoming were Stoke, Millwall, Crystal Palace and Shrewsbury where we sat right at the front but tried to change our seats to behind a goal and higher up at half time but a jobsworth wouldn't let us although there were loads of seats. However eventually he lost control and gave up so we moved.

Any bizarre incidents along the way. Any brushes with anyone famous/infamous?

At Fleetwood we found a fantastic pub – the Camra pub of the year for the area – Strawberry Fields. We met Syd Little (of Little and Large fame) – his wife was a chef at the pub! There were also 3 other people at the pub doing the 92 club. One of these was a man with his wife who had no interest in football – she must be made of gold or not trust him!

Coming back from Shrewsbury we got diverted around half of Wales to get back on the M54.

Now you've joined the small band of 92ers do you plan to keep visiting new grounds as they are introduced to the League, or do you consider it to be a one-off, job-done deal?

We are committed now so will do all the new grounds teams as they come up. It is always interesting watching lower league teams when you support a Premiership team. It is a different experience.

What was your memento/proof of each visit – program, photo, ticket stub, badge?

We got a programme from every match, photos of most and tickets where possible and I wrote a page on each visit.