Done the 92 questionnaire – James Hacker (hacaman)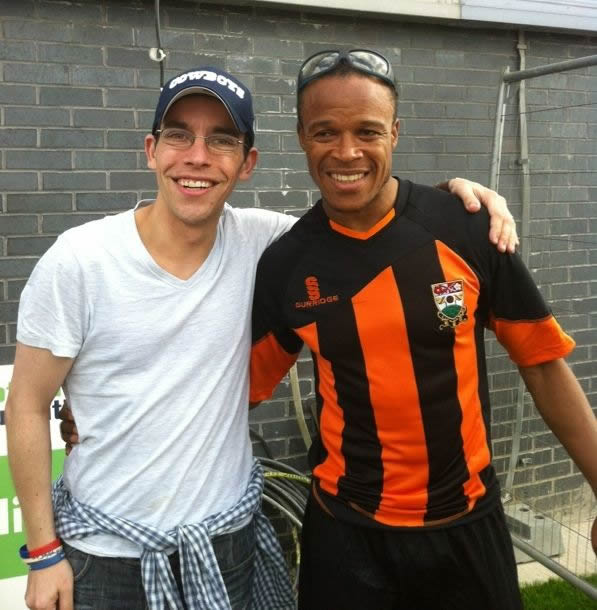 James with Edgar Davids
How many grounds had you visited before you realised you wanted to do the lot?
I had reached the half way point of 46 just following Ipswich, but with us being in the same division for so many years, I was visiting the same grounds each season and wanted a change of scenery.
Did you choose the last ground you were going to visit or did it just pan out that way?
I hadn't chosen any particular ground long term, but when I reached my final 4, Hartlepool United was the one that fell nicely to finish, it was one of my best experiences in the end
Did you have company for some or all of it – were you in competition with anyone else and what happened to them?
My first ground of 'Doing the 92' as a ground hopper rather than an Ipswich fan, was at the Emirates with Wigan as the away team. Amazingly I met a young couple from Bradford who were on about 70 odd grounds and doing the same, we swapped details and I used the Bantams as my away team of choice in League 2 then League 1. They completed the 92 soon after, but we still go to matches together and I even ended up at Wembley twice with them as I qualified for tickets through the amount of City matches I'd attended!
How many had you done when you thought 'Right, I'm going to finish this now'?
It wasn't until I'd got into the 80s that I actually thought I would do it, I don't drive, so location and working for Ipswich Town, it wasn't always easy to fit the grounds in around Town matches.
Obvious question but, best day out?
Quite a few... getting into a sold out Adams Park when Wycombe were playing Norwich and then being 'adopted' by the home fans. Visiting Rochdale where they have the friendliest staff and fans and a great fish n' chip shop. My last ground at Hartlepool when they secured a valuable win towards survival, fantastic atmosphere and celebrations on the home terrace.
Did you manage to do more than one ground in a day at any point?
Plenty of weekend doubles, and a couple of days where I managed a league/non league pair, but I never managed to tick off 2 league grounds in the same day.
Apart from non-League football at the moment, what does Plainmoor have that the Emirates never will?
A cliché, but small lower league grounds with terracing, non matching stands, uneven pitches, simple facilities etc have a spirit and a heart and soul about them. I was very lucky to be given complimentary tickets to the Etihad including a players' lounge pass, a great experience, but not the same as standing on a terrace with real fans who are there to support their local team in spite of everything.
Did you ever turn up to find the game wasn't on, or that you'd gone to the wrong ground?
I was very lucky over the course of my travels, only once a snow affected a game at Port Vale was postponed. As I was staying with my friends from Bradford the only issue was whether Ipswich's game at Leicester the next day would take place, as this was my only way of getting home. Thankfully the match at the Walkers did take place, one of only four in the whole country that weekend!
Best/worst food on your travels?
This is where I should make a joke about Delia Smith and Norwich, but actually worst food would have been a cold and undercooked pie at Portsmouth.
Do you still call 'League One' 'Division Three'?
Sadly working for a football club in ticketing it's meant that I tend to call everything by its official title, so no it is League One despite that being wrong in principle.
Most and least welcoming hosts?
At Rochdale the stewards, shop staff and turnstile operators were all positively 'Disney' friendly and the fans were very welcoming too, maybe being on the verge of promotion after being in the bottom division for 41 years helped. Least welcoming would have been Bristol Rovers where as 'away fans' we were kicked out of the home supporters bar by stewards, despite Rovers fans who had no problem with us being there coming to our defence.
Any bizarre incidents along the way. Any brushes with anyone famous/infamous?
Not anything I would class as bizarre, though the players changing room door at Saltergate being open to everyone to see everything could be classed as unusual/disturbing. Other than rubbing shoulders with the Man City players and WAGs , and meeting Edgar Davids, my only 'celebrity' moment would be meeting the Chuckle Brothers at Rotherham.
Now you've joined the small band of 92ers do you plan to keep visiting new grounds as they are introduced to the League, or do you consider it to be a one-off, job-done deal?
I plan to maintain my 92 status by visiting new grounds that come into the league, as for venturing into non-league or Scotland, I don't know as that's another task entirely.
What was your memento/proof of each visit – programme, photo, ticket stub, badge?
As best as I could I collected a programme, a ticket stub and a pin badge from each ground. I only realise now that I didn't take anywhere near enough photos on my travels.