Done the 92 questionnaire – Ross Henderson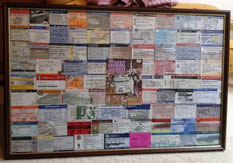 Ross's 84 match tickets
How many grounds had you visited before you realised you wanted to do the lot?
Iíve always said ďwouldnít it be nice...Ē but at the start of 2013/14 I noticed I had done 69 grounds, mainly with Scunthorpe United as we had flown up from League Two to the Championship and right back down again. With six new grounds in League Two to do with Scunny, I set myself the target of finishing before I was 30. Made it with two months to spare.
Did you choose the last ground you were going to visit or did it just pan out that way?
I thought about choosing a final ground, but it never really happened. I just looked at the fixture list every free weekend I had, and picked a game. In the end, Wigan was the last one. I wanted to do a later FA Cup game, but itís too hard to predict
Did you have company for some or all of it – were you in competition with anyone else and what happened to them?
I mainly go to games on my own, but a few friends and my fiancťe have joined me at some. Iíve been watching Scunthorpe for over 20 years, so know enough faces in the crowd there. I like going to new grounds and chatting to the people around me about their teamís fortunes Ė itís nice to know that hardly any fans of lower league clubs are positive about their chances in any match!
How many had you done when you thought 'Right, I'm going to finish this now'?
At the start of 2013/14 was the moment. That was also my start of watching clubs other than Scunthorpe and enjoying it.
Obvious question but, best day out?
Stoke City, Friday night game, the year they got promoted into the Premier League 2007/08. It was the middle of February and Scunny needed the points to stay up, Stoke to go up. We led 2-0 at half time Ė we were in dream land, but you could hear a pin drop. In 20 second half minutes they scored three times, but after the first, the ground erupted into a level of noise Iíve never heard at a game since, and it stayed like that until the end. All the 300 odd travelling fans could do was watch as the onslaught of team and crowd ripped us to bits. Quite awe inspiring, and without a doubt the loudest game Iíve ever been to.
Did you manage to do more than one ground in a day at any point?
I have, but they werenít both in the 92. I went to an early FA Cup game between Blackburn and Manchester City, and then drove down the road to watch Chorley v Grantham. Only missed the first ten minutes. I did Anfield the day after that as well.
Apart from non-League football at the moment, what does Plainmoor have that the Emirates never will?
Apart from all of the obvious atmosphere and pricing arguments, the majority of lower league supporters want to talk about football and have a fantastic knowledge of their team and league. You see Dads with their kids, something no Premier League ground has any more Ė it makes me really sad to go to a ground without families, a lack of younger supporters is what will kill the game. Football below the Premier League is a competitive game, and you turn up to matches unsure of the result and type of game you will see. Not only does that make the football better, but it changes peopleís expectations. The Premier League feels like entertainment, and you are treated like a customer.
Did you ever turn up to find the game wasn't on, or that you'd gone to the wrong ground?
I was actually in Whaddon Road when they called off a game because of a frozen pitch about 30 minutes before kick off - the players were warming up as well. Also I rearranged my entire work diary to go to Wolves v Scunthorpe in a mid-week game. I drove there in terrible traffic in the freezing cold, but the radio said the game was on as Wolves had undersoil heating. When I got there, they had forgotten to turn it on and the game was off.
Best/worst food on your travels?
Hmmm many grounds have terrible food, but for week in week out dreadfulness, Glanford Park is utterly awful. If a pie is served in a paper bag, itís never going to be nice. Not in the League anymore, but Kidderminster do an awesome Cottage Pie!
Do you still call 'League One' 'Division Three'?
Sadly Iím the in-between generation, so weirdly itís Division Two for me! I still call it the Vauxhall Conference as well.
Most and least welcoming hosts?
I hate any ground where the stewards insist you sit, even if there are only a handful of people standing on the back row. MK Dons are bad for that (and the fact they are MK Dons). Accrington were fantastic Ė they did a half price deal for all season ticket holders, including away fans Ė first time Iíve ever seen that. Their fans were also just living the dream of being back in the league, and just genuinely friendly people. Swansea City run a park and ride for mixed supporters, but their fans make what could be an uncomfortable experience great fun.
Any bizarre incidents along the way. Any brushes with anyone famous/infamous?
Tried really hard to think of something bizarre, but I canít. Bumped into Joey Barton and Martin Allen at a couple of games, but no-one really famous.
Now you've joined the small band of 92ers do you plan to keep visiting new grounds as they are introduced to the League, or do you consider it to be a one-off, job-done deal?
My appetite has been whetted for other ventures now! I have done 21 of the 67 Conference clubs, so want to try and finish them off at some point. I read a blog a few years ago about someone who did the FA Cup from the first preliminary round to the final, so might give that a try as well. Definitely going to keep topping up though, and I made a promise to myself not to go to another Premier League game.
What was your memento/proof of each visit – programme, photo, ticket stub, badge?
I have a ticket stub for 84 of the 92 games. Not every ground gives you a ticket, and Iím missing quite a few from my early games that got lost on the way. Sadly, Ebay doesnít have much of a market for a Bury v Scunthorpe ticket stub from 2003.