Done the 92 questionnaire – ALAN & ANNETTE BIRKBECK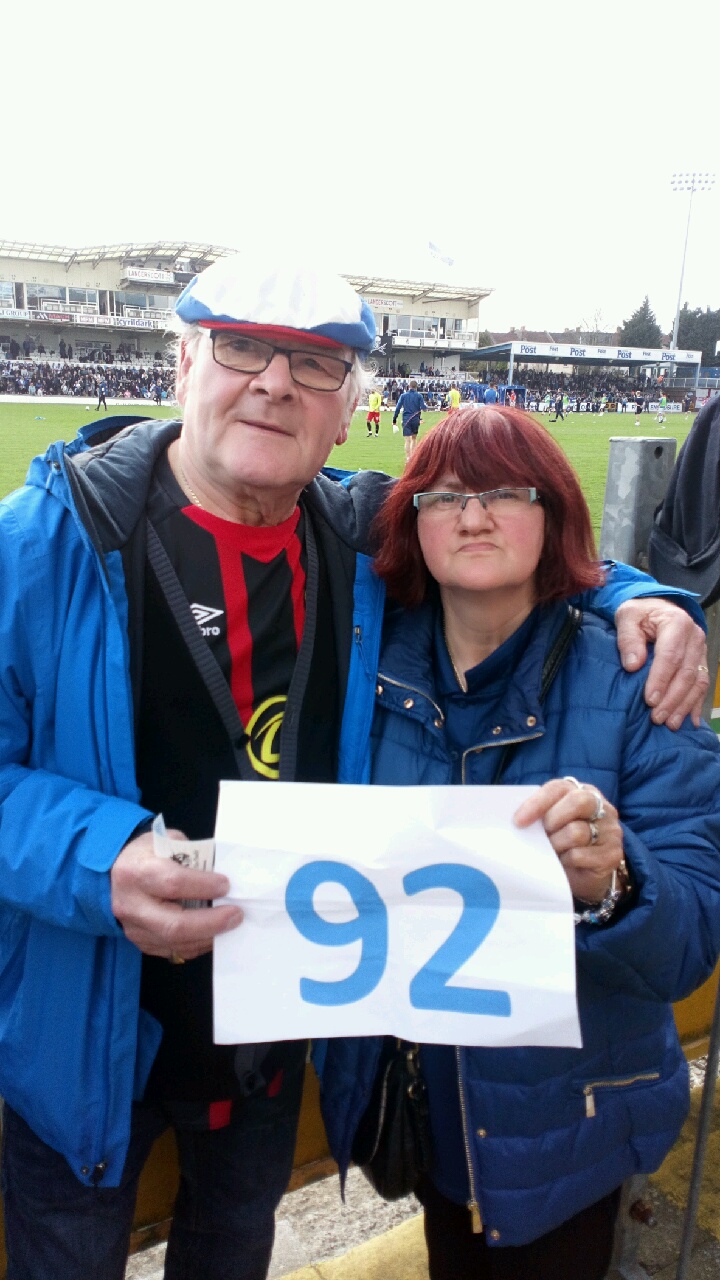 Alan 'Birdy' Birkbeck & Annette
How many grounds had you visited before you realised you wanted to do the lot?
Hard to say really - my intentions were, and still are, to complete the 92 grounds watching BLACKBURN ROVERS but with the international breaks I saw an opportunity to get grounds from lower divisions on my list. Iíve visited 83 with BLACKBURN ROVERS. Grounds visited not with BLACKBURN ROVERS are as follows 2017 May 6 Stevenage v Accrington, 2017 Sept2 Cheltenham v u21,2017 Dec 2 Forest Green v Exeter City, Stevenage,2017 Oct 07 Barnet v Coventry2017 Nov 29 Chesterfield v Man City u21,2018 Mar 24 Wycombe Wan v Port Vale,2018 Mar 30 Colchester v Luton, Mar31 West Ham v Southampton
Did you choose the last ground you were going to visit or did it just pan out that way?
No, never planned where to finish the 92 it just happened to be BRISTOL ROVERS
Did you have company for some or all of it – were you in competition with anyone else and what happened to them?
In the early years I did a lot of grounds with friends on coaches to away games. I got to 85 in 1988 but then clubs were coming in through lower leagues and moving to new grounds so I fell behind, mainly because I was trying to do it with one club BLACKBURN ROVERS. I remarried in 1988 and my wife has been to all the games I have attend apart from LINCOLN, which we will be doing shortly.(17TH APRIL 2018)
How many had you done when you thought 'Right, I'm going to finish this now'?
Never really thought about it really, it just came to a point when talking to other supporters and getting a good friend to give up his time to drive
Obvious question but, best day out?
Been a lot of good days over the years, but winning the Premier League trophy at ANNFIELD must be up there with the best.
Did you manage to do more than one ground in a day at any point?
No but did 2 in 2 days - COLCHESTER then WEST HAM
Apart from non-League football at the moment, what does Plainmoor have that the Emirates never will?
The seashore, but it's that long ago I donít really know
Did you ever turn up to find the game wasn't on, or that you'd gone to the wrong ground?
Yes quite a few times - CHELSEA 1965 travelled overnigh,t game postponed waterlogged pitch; QPR 1967 waterlogged pitch;games abandoned HULL CITY 1970, CAMBRIDGE 1992 and pre season game in Germany
Best/worst food on your travels?
Can't say I've had that problem
Do you still call 'League One' 'Division Three'?
Yes, but not always
Most and least welcoming hosts?
Not had a problem at most grounds - least welcome Burnley (DINGLES) & MAN UTD
Any bizarre incidents along the way. Any brushes with anyone famous/infamous?
Yes, believe it or not I met ART GARFUNKLE on WARRINGTON RAILWAY STATION in between gigs. He told me he was missing home and he was writing words to a song later to be called homeward bound. We talked about football but he didnít understand the travelling that fans did.
Now you've joined the small band of 92ers do you plan to keep visiting new grounds as they are introduced to the League, or do you consider it to be a one-off, job-done deal?
My aim, along with my wife and friends is to continue going to new grounds home & abroad for quite a long time
What was your memento/proof of each visit – programme, photo, ticket stub, badge?
Over the years I've been travelling I've saved programme, ticket stubs, some photos, & club badges wherever I've been, home and abroad.